Hen and Stag Parties on Norfolk Broads - The Broads National Park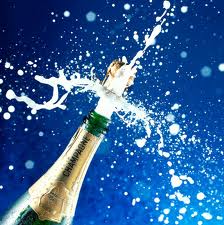 Organisers of Hen and Stag parties are always looking for fun and imaginative ideas for the Bride and Groom to let off steam with their friends and family before tying the knot. Here at Barnes Brinkcraft we have been welcoming *Hen and Stag parties to the Norfolk Broad for years, both on board our Cruisers and in our self catering luxury riverside Lodges. To help get you into a celebratory mood, the Hen or Stag will be given a complementary bottle of Bubbly on arrival. Please be aware you will be asked for a security deposit on arrival. this will be between £250 and £500 depending on the boat or £200 if you are staying in the lodges.
We believe that everything you need for a great weekend (or longer!) is right here, whatever you fancy doing.
Self Catering Riverside Lodges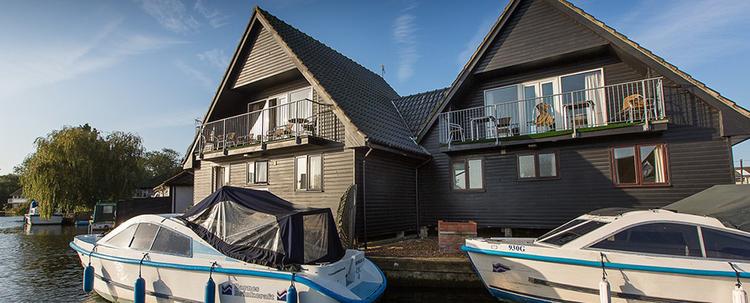 Our
Daisy Broad Lodges
can each Lodge sleep up to 10 people in four bedrooms, plus a sofa bed in the lounge, with spacious lounge/diners and three bathrooms - two of which are en-suite. The Lodges Mallard, Coot & Grebe have furnished balconies overlooking the river and 'Mallard' has a lawned garden which is ideal for bar-b-ques. If you are booking outside of the main school summer holidays we will even give you a
Day Boat free of charge
(not between the 16th July and 2nd September) so that you can explore the nearby villages by river.
We do have smaller properties available if required and also the ability to link two of our Daisy Broad Lodges 'Coot & Grebe' to sleep up to 20. For more information on self catering please go to our main page.
Cruiser Hire - Boating Holidays On The Norfolk Broads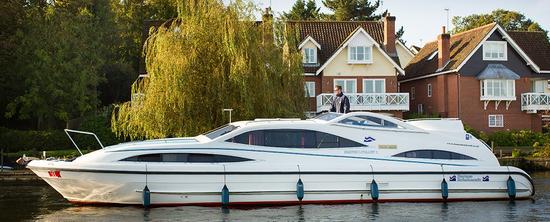 We have Cruisers to hire that will sleep from 2 - 12 people. Our cruisers have all mod cons including en-suite toilets/showers, 240v electricity - essential for the girls and their hair straighteners, bow thrusters for ease of mooring and even fish finders for the boys. (please check individual boat specs for full details). We have listed below a few that are popular with groups but for information on the whole fleet, please click here
Brinks Emperor
, sleeps 8-12 people
Brinks Ultima
, sleeps 8-12 people
Brinks Harmony
, sleeps 8-9,
Elite Fleet
Brinks Lullaby
, sleeps 8-9,
Elite Fleet
A security deposit is taken on ALL Hen & Stag party bookings for both Lodges & Cruisers.
The Broads National Park
It is true that the Norfolk Broads area is a very tranquil and beautiful place which is ideal if you are looking to get away for a quiet and relaxing break, perhaps catching up with your girlfriends or looking to do some fishing (closed season between the 16th March and 16th June) with the boys, BUT if you are looking for something a little more lively you can always head to Norwich or Great Yarmouth.
Norwich, Shopping & Nightlife
Shopping in Norwich is a rather unique experience. High street stores, designer brands, independent shops and quirky goods are all on offer in this city listed as one of the top 10 places to shop in the UK. Outside of London's Oxford Street, Norwich is the only place in the UK to have 4 national department stores as well as a local independent department store, Jarrold, within its city centre.
Two shopping centres, independent retailers located in the historic Norwich Lanes, Elm Hill and Timberhill plus contemporary architecture and history. Norwich satisfies even the most sophisticated shopper so whatever your style, taste or pocket you will have great fun discovering the mix this exciting city has to offer.
If it is nightlife you are looking for, head to the city's Prince of Wales Road or Riverside, both of which are bustling with pubs & bars, restaurants and night clubs.
If you are on-board a boat you can moor at the Yacht Station right in the heart of Norwich, or if you are staying in one of our self catering properties you can leave you car behind and catch the train from Wroxham to Norwich which is just 10 minute ride.
Great Yarmouth
Great Yarmouth is Norfolk's premier beach resort where you and your party can enjoy beautiful wide, sandy beaches stretching as far as the eye can see, a superb choice of places to eat and drink, a bustling town centre, and of course the 'Golden Mile' which is home to the Pleasure Beach funfair, amusement arcades, bowling alleys, two Piers, and lots of nightlife.
You can moor at the Yacht Station in Great Yarmouth which is just a 10 minute walk from the town centre or if you are travelling in by road there is plenty of car parking available or ask at Barnes Brinkcraft reception and we help arrange a taxi or limousine for you.
Helpful Links & Other Suggestions For Your Hen / Stag Celebration
Imagine Spa at Blofield - How do you imagine the perfect hen party to be? Imagine Spa think that they have a good idea and have the facilities, the people and the experience to deliver it. Their hen party packages will guarantee a fun, relaxing party with plenty of time to chat and catch up. Let them take all the stress out of the planning and serve you up with the hen party of your dreams. Enjoy the intimate facilities and luxurious surroundings at Imagine Spa, it's the ideal setting for you and your friends to prepare for the big day. Imagine Spa will organise everything and make sure you have the hen party you always dreamed of. And, the Bride-to-be goes FREE with groups of 10 or more!
Private Boat Party Charter - 'Naiad' is based at the Hotel Wroxham just minutes from our self catering Lodges. You can sit on deck and feel the breeze as you sail along the waters or just kick back and relax in the spacious cabin below, taking in the wonderful views of the river with the added bonus of having crew do all the work for you. You can even arrange to have a light lunch or afternoon tea on-board and no celebration trip would be complete with out a glass or two of champagne.
Fishing on the Norfolk Broads - If you fancy a few days aways with the boys doing some fishing, you should call in to Lathams at Potter Heigham. Covering some 3,500 sq.ft, the in-store Tackle Department carries thousands of product lines in stock - all at special discounted prices. Rods, reels, poles, clothing, bait, general equipment and luggage - fisherman of all types are well catered for. And if you need advice, then Lathams is the place to ask, where the team of local staff can provide help and guidance to those new to the area.
Canoeing - If you are staying in one of our Lodges why not take a canoe out for the day. Our helpful team will recommend a route. life jackets and provide you with a 'dry bag' for your valuables (should the unthinkable happen!)
Bouchon Wine Bar & Delicatessen - Is a wonderful mix of wine bar, wine shop and delicatessen. "Our wines originate from small wineries, local estates and family owned, to larger producers. Our deli is full of authentic French produce, enjoy a tapas style selection with your wine, or even choose from the feshly prepared dishes on our menu. Of course, you can just buy your favourite wine and take it away to savour at home."
Food, Drink & Celebration Items
Check out our own 'Bosuns Locker' for delicious local food hampers, celebration cakes, special discounts on cases of wine, and other celebratory items you might want to order for your stay. If you don't fancy cooking, you can even arrange for a celebration meal to be delivered direct to your Holiday Home or Boat. (Rosanne's Kitchen)
Hairdresser
If you fancy having your hair done before your big night out, Emma a local hairdresser will come to you - booking essential 07712 275943
07712 275943
Taxis & Minicabs

Wroxham Taxis 01603 782925
01603 782925
Lion Travel 01603 738118
01603 738118
K & W Taxis 01692 630856
01692 630856
Limousine Hire
Mr Stretch Limos 01692 535809
01692 535809
Silverline Limousines 01603 713769
01603 713769
Wow A Limo 0800 084 2426
0800 084 2426 FREE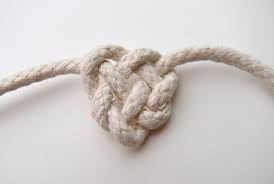 All information given regarding other local businesses on this page is correct to the best of our knowledge but is not guaranteed.