Brinks Rhapsody
Brinks Rhapsody, an electric hybrid Cruiser which we first added to the fleet in August 2014, a second in July 2015 and the third introduced in 2016. There is no engine, just a bank of batteries which drives the motor and should the batteries require more power, a generator kicks in and powers the drive. The boat is also fitted with solar panels and has a very low wash hull design making this one of the 'greenest' boats and most quiet on the Broads.
At 44 feet long, it is a large and spacious cruiser but very easy to manoeuvre having been fitted with both a bow and stern thruster and user friendly controls.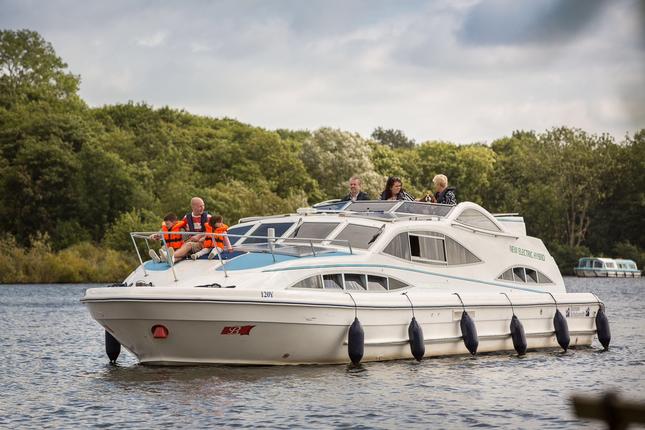 Brinks Rhapsody
has many features which would normally only be found on privately owned cruisers:- GPS so that you can be completely accurate when checking your speed, a dry bilge system, an electric winch for the mudweight, low power LED 'mood' lighting, t.vs in each cabin, heated towel rails, a wine fridge,and a wifi system.